ADF represents Auto-lead Data Format.
ADF uses XML to export and import automotive customer leads. Extensive Markup Language (XML) is a file format used to represent data and provides a way to structure this data. Auto-lead Data Format goes into more detail about ADF.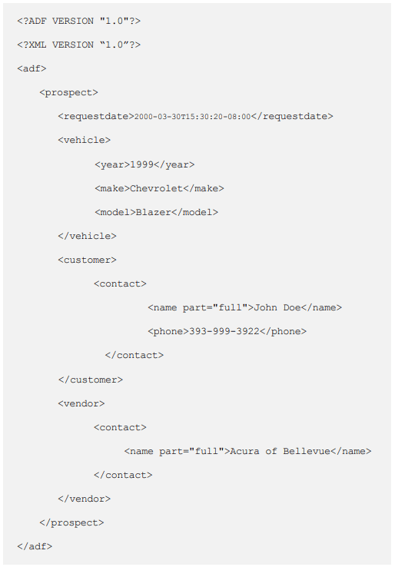 What are the benefits?
ADF provides a simple and flexible way to represent automotive customer leads that is beneficial for dealers, service providers, and consumers.
For Dealers
Sell more cars

Improve customer service levels

Consolidate leads from multiple sources

Reduce errors caused by manual handling of customer information

Support existing and future sales automation tools

Lower training costs
For Service Providers
Streamline the transmission of leads to dealers
Reduce the use and dependence on faxes
Exchange customer information with partners and vendors
Improve consumer satisfaction
Improve dealer satisfaction
For Consumers
Better service due to faster and more accurate transmission of purchase requests
Five Key Categories of Information for ADF
These are five different categories of information that you can obtain for ADF
Lead (prospect) information
Vehicle information
Customer (buyer) information
Vendor (dealer) information
Service provider information
Information required to make a lead
Date and time
Vehicle: year, make, model
Customer: name, and either a phone number or email address
Vendor: name (of the dealership)
Why do we need to know about ADF?
For one of our products, the Pop-up Lead Form, we need to send the leads to the CRM of your dealership. To send these leads, we format the information that we receive from the leads using ADF and email those ADF leads to your CRM.
ADF is also widely used in the automotive industry to present and use this lead data. In the automotive industry, ADF is the format that is used to send and present data from providers to the CRM. From the CRM, the information will be given to dealerships and salesmen to reach out using these leads and to get them to come into the car dealership and purchase a vehicle.
What does Orbee need to start creating ADF leads?
When setting up the Pop-up Lead Form, we will first get in contact with your dealership and get the information from your CRM. CRMs may have different requirements for customer lead forms.
For example, one CRM system may only require your customers' name and phone number; others will only need their name and email address
Once we figure out what information your CRM needs, we will begin forming a leads profile for your car dealership. Using this information, any leads that come through Orbee will be sent to you in the format needed for your CRM requirements.
Last Updated: Dec 9, 2019 12:10 PM
If you have any other questions, feel free to contact us!