The Analyze tab may be the most important tab on the Orbee Platform. It consists of: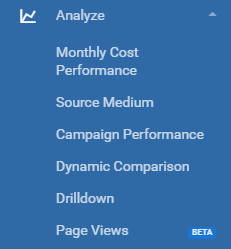 These sections will give you insights on how your car dealership website is doing by providing specific metrics on your visitors and how they interact with your website.
By looking at this data, you may look into how to improve your website or advertisements to provide the best customer experience possible.
Once you are done with the Analyze tab, go on over to the Conversions tab to take a closer look at your website conversions.
Last Updated: Feb 18, 2020 2:54 PM
The first section under the Analyze tab is the Monthly Cost Performance.