Call Reports

Call Reports will be the first section you will see on the Calls tab.
The first item you will see is the Calls Comparison by Call Origin bar graph.

This bar graph will compare the number of calls and the number of callers

On this graph, there are a few things you need to know:
The default call origin refers to the fallback phone number if the source/medium does not provide a phone number.
If you would like to view a specific metric, you can cross out the metric by clicking on the name at the top of the graph. This will also change the bottom of the table (x-axis) based on the metric(s) selected.

To change the bar graph to a different view, you can click the line graph icon on the top right of the graph to view Calls by Day.

For this view, it will show you # of Calls, # of Callers, and Avg. Call Duration as the metrics with the selected date range at the bottom (x-axis) instead.
Calls by Day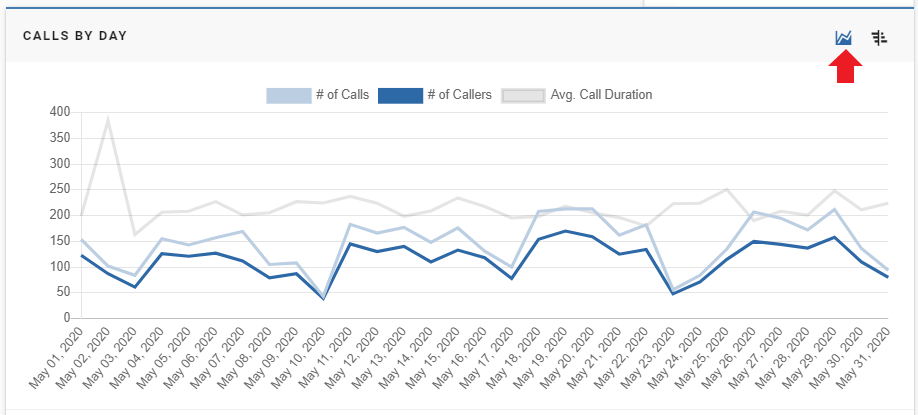 To view a different date range, you can change the date range.
Below the graph, it will list three metrics: Total Calls, Total Callers, and Avg. Call Duration. It will be the total value of each metric for the selected date range.

Next, we will be taking a look at the Call Logs.
Call Logs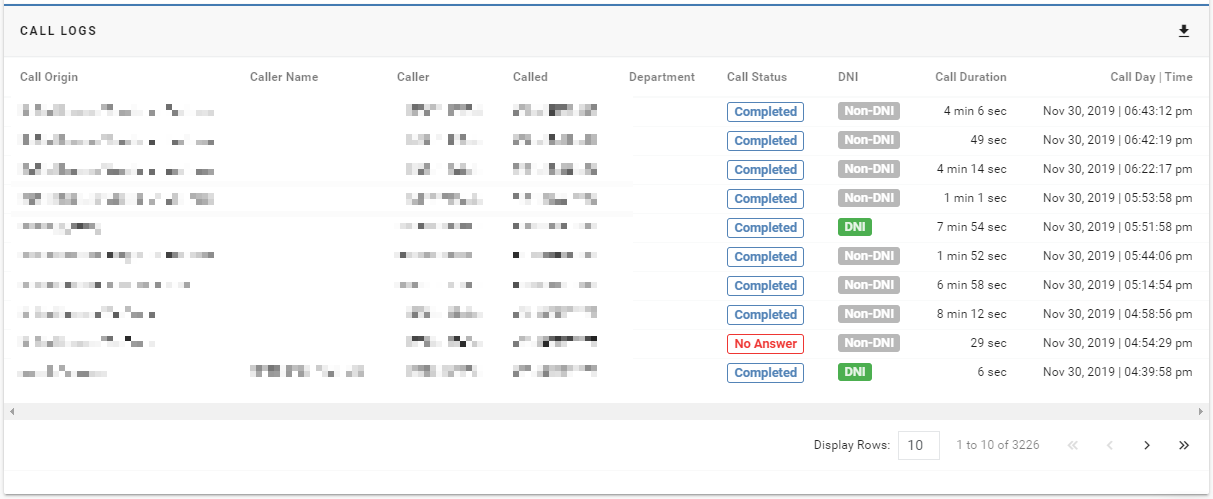 This table will show you:

Call Origin: the call origin will tell you the source/medium of the caller
Caller Name: some caller names will be found on this table
Caller: this is the phone number that the caller called from
Called: the phone number that the caller called
Department: this will be the store name (if your account has several properties)
Call Status: call status will tell you whether the call had no answer, was completed or is in progress
DNI: this will show you whether or not the phone number the customer called was a DNI number or a non-DNI number
Call Duration: this is how long the phone call lasted
Call Day | Time: the day and time the call was made

To change the number of rows, click the drop-down menu next to Display Rows:

To go to the next page of the table, click the > arrow; to go back click the < arrow.
If you would like to go to the last page, click the >> icon; to go to the beginning, click <<.
Last Updated: June 11, 2020 3:00 PM
The next section in the Calls tab is the Manage Numbers.