In the Campaign Performance section of the Analyze tab, it will show how your campaigns are doing.
Campaign Performance

The first metric you will see on this page will be the Total Visits of the last month and the month before.
On the right side, it will display the date range along with the date drop-down selection tool.

You can select the following options:

Today
Yesterday
Last 7 Days
Last 30 Days
Current Month
Last Month
Custom Range

You may also press the checkbox where it says, Custom Compare Date to allow for a second date range box.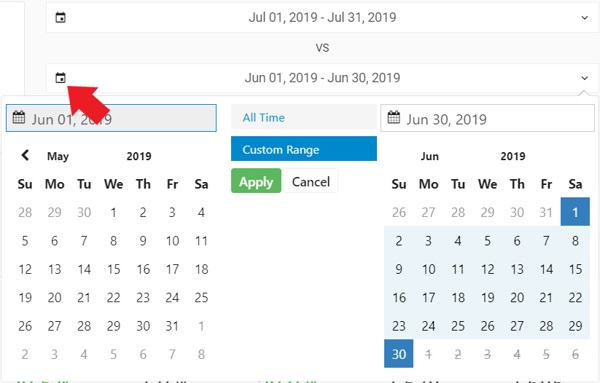 Clicking the small calendar icon (shown above near the red arrow) will allow you to choose dates for your custom range.
Campaigns
Campaigns are how you communicate your marketing efforts to your customers. These are the specific actions you organize to promote your car dealership.

The name of the above Campaign is Orb-New Vehicles.

The source is google and the medium is cpc (cost per click).
If you click directly onto the Campaign name, you will go to the Drilldown page with the specific data for this Campaign.

If the Campaign is listed as (not set), then the campaign was not tagged in the URL.

If you want to look for a specific Campaign, you can use the search bar on the right side, near Total Visits.
The Classified Campaigns will be the ones that we consider as one of your campaigns.

The Classified Campaigns are those that are purposefully tagged by us or your car dealership.
Some important car websites (Autotrader, Cargurus, Cars.com) do not tag their campaigns and because of this, we set their mediums to referral (even if they might not be)
Many of the campaigns that are listed here are those that would not normally be listed under Classified campaigns because they are referrals, their source/medium is (direct)/(none), or it is considered as internal traffic. If you click Show All beside the Classified tab, you will be able to see all of the campaigns listed.

To change the rates to counts to display the number instead of a percentage, you can select Counts where Metric Display is located.
At the bottom of the Campaign table, you will be able to see a tool (in the red box above) that will help you look through the different pages of your Campaigns.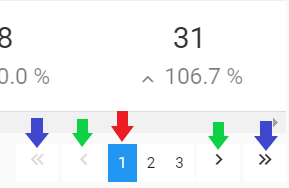 To change the page based on the page number, you can click the number (shown with the red arrow).
To go a page forward or back, you will click the > or < icon (shown with the green arrows).
To go to the last or first page of your Campaigns, you will click the << or >> icons (shown with the blue arrows).
Last Updated: Jan 14, 2020 9:46 AM
The next section in the Analyze tab is Dynamic Comparison.