Car Shoppers Analysis
The Car Shopper Analysis section compares the identified car shoppers within the same group.

This graph will compare New Shoppers, Used Shoppers, and Both Shoppers. New and Used refer to new and used cars.
You can change the date range for this data as well.
You can take a closer look at certain metrics by clicking the name of the metric on the graph to cross it off.

Below the bar graph, there is a table that displays: Total Identified Car Shoppers, New Shoppers %, Used Shoppers %, and New & Used Shoppers %.

If you would like to filter out these metrics, you can click on the funnel and select a specific filter. These filters include Paid Search, Organic Search, Social, Display, Email, and Other.
Clicking any of the metrics on this table will take you to the Shoppers Overview section with more details about your shoppers.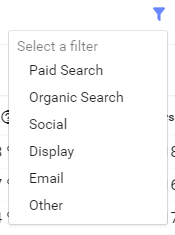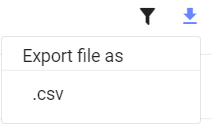 You can also export the file into a Microsoft Excel file (.csv) by clicking on the button with the down arrow and selecting Export file as .csv.
Last Updated: Feb 19, 2020 2:19 PM
The next section of the Platform is the New Car Shopper Analysis.