Timeline
The Timeline will show you the conversions in chronological order, starting with the beginning of the date range, and the last page being the end of the date range.

There are three conversion types, represented using the following icons:

Click to SMS
Click to Call
Form Submission
It will also state the Conversion Type below the visitor ID

Instead of stating the visitor's name, we set an anonymous ID to ensure that your customers' privacy is respected.

Clicking on the Visitor ID link will lead you to the Shopper Profile section of the Platform

The other information that is listed under each Visitor Conversion includes:


| | |
| --- | --- |
| Landing page URL | the page that your visitor first entered |
| Converting Page URL | the page that your visitor completed a converting action |
| Referrer | the referrer will typically be the URL that led the visitor to your page (for example, Google is a referrer if your visitor used Google to find your car dealership's website) |
| Source | where the user came from to get to your site |
| Medium | how you send your message to your customers |
| Campaign | how you communicate your marketing efforts to your customers |
| Time Spent | the amount of time that your visitor spent on your website (includes idle time) |
| Time Engaged | the amount of time your visitor spent clicking links and browsed your website |
| Number of Pages | refers to the number of pages your visitor clicked |
To filter a specific Source, Medium, Campaign, Conversion Type, Landing Page, or Conversion Page, click the one you would like to filter and select it.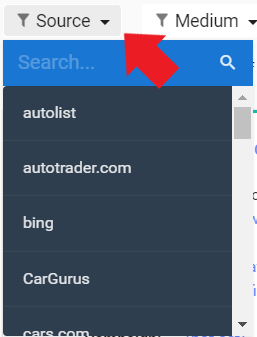 Last Updated: June 9, 2020 3:23 PM
After Timeline, the last section of the Conversions tab will be the Drilldown.