We will be discussing the new "Special Ad Category" that Facebook is requiring of car dealerships.
Facebook has a new compliance policy where certain car dealership advertisements need to be flagged under the "Special Ad Category."
Why is this happening?
Due to the car dealerships that currently display credit and loan opportunities on their websites or ads, Facebook requires that these advertisements are categorized under the Special Ad Category.
If the advertisements are not flagged under this category, they will not get approved.
Facebook believes that these special categories help protect people on Facebook from unlawful discrimination.

In March 2019, civil rights organizations challenged Facebook because of the discrimination that occurred. Facebook allowed advertisers to specifically target people based on factors that were considered as discrimination.
What are the rules?
Facebook states:
Credit Opportunity: Ads that promote or directly link to a credit opportunity, including but not limited to credit card offers, auto loans, personal or business loan services, mortgage loans, and long-term financing. This also includes brand ads for credit cards that include a specific credit offer.
This means that if you promote any credit or loan content on your advertisement or on your landing page, you need to place your advertisement under Credit Opportunity for the Special Ad Category.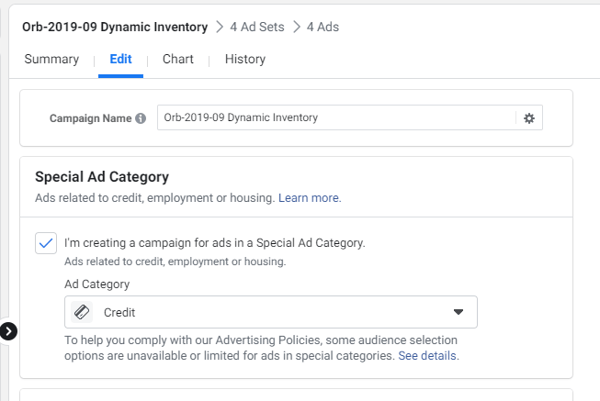 Facebook's Advertising Policies also states under the Restricted Content section that Financial and Products and Services must abide by:
Policy: Ads promoting credit card applications, or financial services with accredited institutions must clearly provide sufficient disclosure regarding associated fees, including APR percentages transaction fees, within the ad's landing page. Ads promoting credit cards, loans or insurance services must be targeted to people 18 years or above. Ads promoting credit cards, loans or insurance services must not directly request the input of a person's financial information, including credit card information.
This policy means that your car dealership needs to provide a clear description of the credit or auto loan services on the landing page.
Advertisements must be targeted to users that are over eighteen years old.
What does this mean for our Facebook ads?
Your advertisement must be placed under the Special Ad Category for Credit if your landing page/website and/or advertisement includes any information about credit.
The audience selection tools will be affected due to the Special Ad Category. You will no longer be able to use the "Lookalike Audiences" for your targeting options.

However, you will be able to create a Special Ad Audience. With this option you will be able to:

Choose an information source (pixel or Custom Audience which will let Facebook create an audience based on their features)
Locations: you can choose to target your advertisements based on geographic location (country, region, state, province, city, congressional district), but not by ZIP code. You can also choose specific locations with a fifteen-mile radius around the targeted city, address, or pin drop.

Upon selecting this audience, you should be able to select a mile radius of 15-50 after choosing a city.

Unfortunately, detailed targeting is very restricted. Demographic, behavior, multicultural affinity, and interest options are unavailable. You also cannot exclude any detailed targeting selections.

With Special Ad Audience, you will be able to choose your audience while complying with the audience selection restrictions for this new policy.

If you would like assistance with setting up the Special Ad Audience, an Orbee representative will be glad to help you out!
Last Updated: Jan 27, 2020 10:13 AM
For more information about the new Facebook rule, please check out Facebook's Updates to Housing, Employment, and Credit Ads.