This article will explain the possible reasons why your advertisement on Google was disapproved.
In this article
Google Ads Policies
Your advertisement may have been disapproved because it does not meet Google's policies for advertisements
Google has policies regarding:

Prohibited content
Prohibited practices
Restricted content and features
Editorial and technical

For more information, you can check out Google Ad Policies.
Why did I receive an email that my ad was disapproved?
Your car dealership may receive an email regarding advertisement disapproval with Google.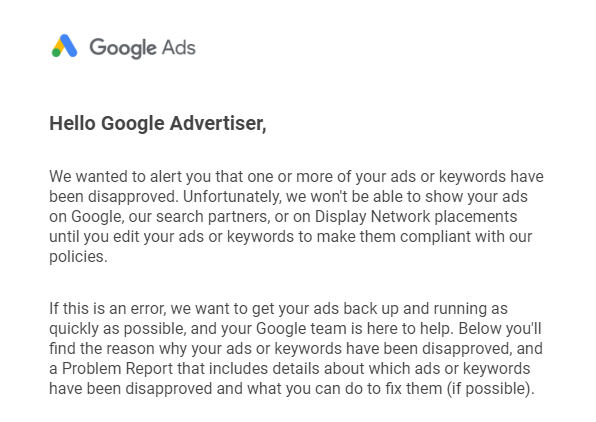 At Orbee, there are two reasons your ad would be disapproved. The landing page is no longer active is the first reason, and the second reason is that your advertisement has text that has been trademarked.
Destination Not Working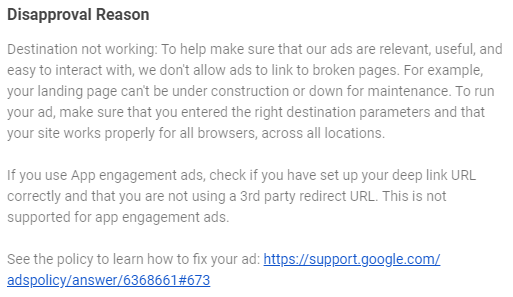 This means that the vehicle was sold and that there is no longer a car to sell to people.

This is against Google's advertising policy because the landing page no longer works, and there is no item to sell.

Orbee automatically removes these advertisements as soon as we receive the information that the vehicle is no longer on the lot.

If there are any price changes on your website, we will make the adjustments for your advertisements and post the new ads as soon as we receive the updated price.
Trademarks in Ad Text
The second reason is that your dealership wants to put up an ad with text that is trademarked by the owner. Because the name is trademarked, the owner may have made a complaint against your advertisement


When you list an advertisement with text that is trademarked, you will need to get authorization from that trademark owner to post your advertisement

If you are not the trademark owner (and you do not have contact with the trademark owner), you will need to fill out the request authorization form

You will need to select "No" to indicate that you're not the trademark owner. When you submit this form, Google may provide you with the trademark contact information. If not, you may need to research the ownership and reach out on your own

If you cannot get authorization, you can be a reseller, but being a reseller has requirements:

The landing page has to be dedicated to selling that product or service, components, replacement parts, or compatible products or services corresponding to the trademark. The landing page must clearly provide a way to purchase the products or services or display commercial information about them, such as rates or prices

The following is not allowed under the Reseller and informational site policy:

Ads referring to the trademark for competitive purposes.

Ads with landing pages that require users to provide extensive information before displaying commercial information.

Ads that are unclear as to whether the advertiser is a reseller or informational site.

Please be aware that being a reseller with limit your ad's placement and showing on specific keywords and searches

If your dealership does have permission to use the trademark and Orbee posts your advertisements, please let us know and we will be able to assist you in getting your advertisements up. On the other hand, if you would like to be listed as a reseller, please also let us know and we will work together to set you up as a reseller for that trademark.
You can read more from Google about this by checking out Reseller and information site policy

To read more about trademarks, check out Trademark help for advertisers.
We will make sure that your advertisements are always updated or taken down if there are any changes.
Last Updated: Jan 27, 2020 10:09 AM
Feel free to contact us if you have any more questions regarding Google Ads disapprovals.