There are several sections in the Group Comparison tab that will help you better understand your customers.
The Group Comparison tab will compare your car dealership to the other car dealerships that are a part of your group. If your car dealership is not within a group, the group comparison metrics will remain the same.
For example, your car dealership is a property in an account. There may be several properties (car dealerships) per account (group).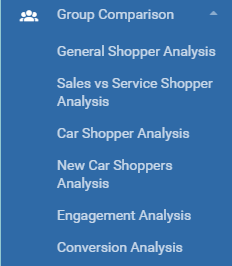 If you want to check out the specific sections for each Group Comparison, click one of the links below:
The next tab on the Orbee Platform is the Analyze tab.
Last Updated: Feb 18, 2020 2:49 PM
The first section of the Group Comparison Tab will be the General Shopper Analysis.