New Car Shoppers Analysis
Under the New Car Shoppers Analysis section, the car dealerships within the group are being compared based on their new cars.
The default Comparison Metric is Mismatch %. This chart shows the percentage of Mismatch New Car Shoppers to the Non-Mismatch percentage of New Car Shoppers.

To change the Comparison Metric, select the drop-down menu right below the date range and select "Cross-Model Shoppers %."
It will display a similar graph to the Mismatch %, but instead showing Cross-Model Shoppers % to Non-Cross-Model Shoppers %.

Below the bar graph will display a table with Total New Car Shoppers, Mismatch %, Average Models Viewed, and Cross-Model Shopper %.
Clicking any of these metrics will take you to the New Car Shoppers Analysis section of the Platform.
If you would like to filter out these metrics, you can click on the funnel and select a specific filter. These filters include Paid Search, Organic Search, Social, Display, Email, and Other.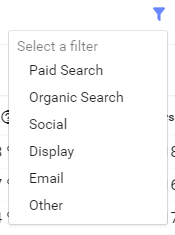 You can also export the file into a Microsoft Excel file (.csv) by clicking on the button with the down arrow.


Last Updated: Feb 19, 2020 2:22 PM
Finished with reading the New Car Shopper Analysis? Check out the Engagement Analysis next!