The Image Manager hosts and manages your images.
Image Manager

The Image Manager is beneficial to your car dealership because you can upload and organize your site images by using it.
You can drag and drop an image from your computer to the box where it states "Drop File Here" to upload an image.
Another option is to click within the same box to select a folder that your image is located to upload that image. Click Open once you have selected your image.

You can also double-click the image to select it.

Select the Upload Files button after your image is selected to upload it.

You can edit an image by clicking the Edit icon.
From there, you can select a new image by clicking the image that is already there and upload a different image.

You can also change the name of the image.
You are also able to add a metadata field.

To download an image, click the Download button beside the Edit button.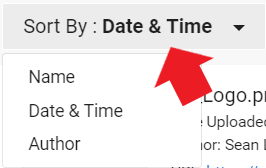 The default display for the images will be

Date & Time.
To change how the images are sorted, click the drop-down menu near Sort By.
You can select Name or Author to change how the images are sorted.

You can also choose the way your images are ordered by.
Click the drop-down menu besides Order By and select ASC (for ascending) or DESC (for descending).
If you are looking for a specific image, you can type in the name of the image into the search box to the right of the Order By selection.
Another feature in the Image Manager is the ability to create a new image record. To do this, click:

An Image Record allows you to create settings for an image without actually having the image file yet.

You can name the New Image Record and then click Create.
Once the Image Record is created you should see the image below.
Last Updated: June 10, 2020 11:58 AM
The next tab on the Orbee Platform will be Dynamic Reports.