Shopper vs. Inventory Data
This next section is New Car Shoppers Analysis. In this section, we will be comparing the car dealership's inventory to customer car preferences.
*Note: This section of the Platform is still in beta. We are working towards making it a great feature for your car dealership!

There is a graph that will show you the percentage of Inventory and Shoppers.

Below the graph, it will display the metrics for Total Unique Shoppers, Avg. Models Viewed, Total Mismatch, and Cross-Model Shoppers.
Shoppers are calculated by the total amount of VDPs (Vehicle Description Pages) browsed to the number of visitor specific VDPs.
Inventory is calculated by the total number of vehicles in your inventory divided by the number of that specific model in your inventory.

To take a look at a specific metric on the graph, you can click on the name of the metric you would like to hide and it will display the other metric clearly.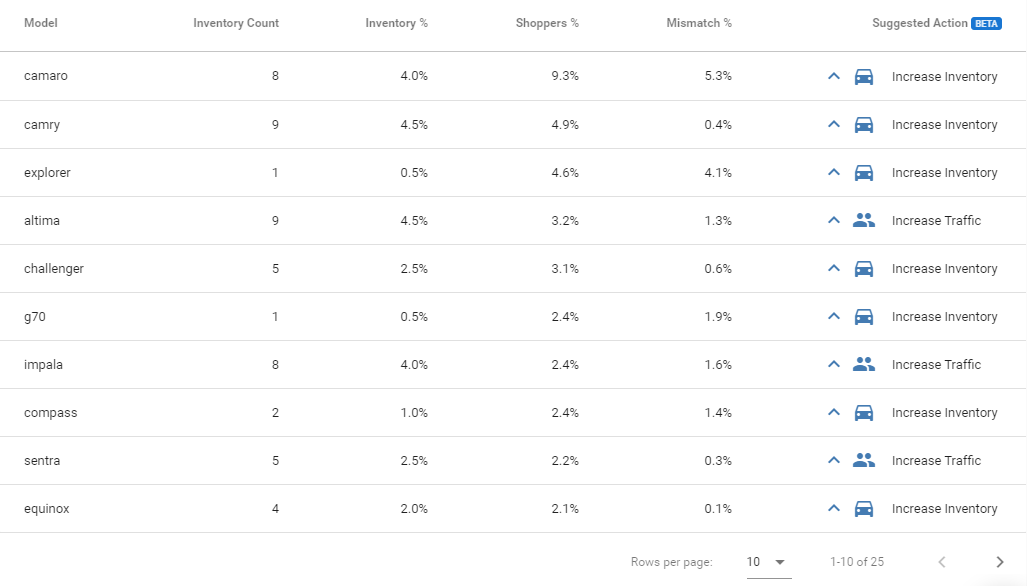 The table under the graph will display the Model, Inventory Count, Inventory %, Shoppers %, Mismatch %, and Suggested Action.
Suggested Action helps your dealership by looking at the Inventory % and Shoppers % to determine whether you need to increase traffic or increase your inventory.

The best number for your dealer to be at is a 0% Mismatch %. This means that both your Shoppers % and Inventory % are the same number.
When the suggested action is to increase traffic, it is saying that you should sell more of these vehicles because you have more than what your customers want.
If the suggested action is to increase inventory, this means that your shoppers are looking at this vehicle often on your website, and you do not have enough vehicles for the number of shoppers.
If your car dealership would like to obtain these graphs and tables, please feel free to contact an Orbee representative and we can help you get started.
Last Updated: June 4, 2020 11:06 PM
The next section under the Shoppers tab is Segments.