This article will explain what a Pop-up Lead Form is.
About the Pop-up Lead Form
The Pop-up Lead Form is a plugin that can be added to your website.
When entering your website, a pop-up shows with a form right away. This will allow your visitors to enter their information, which provides your car dealership with a lead.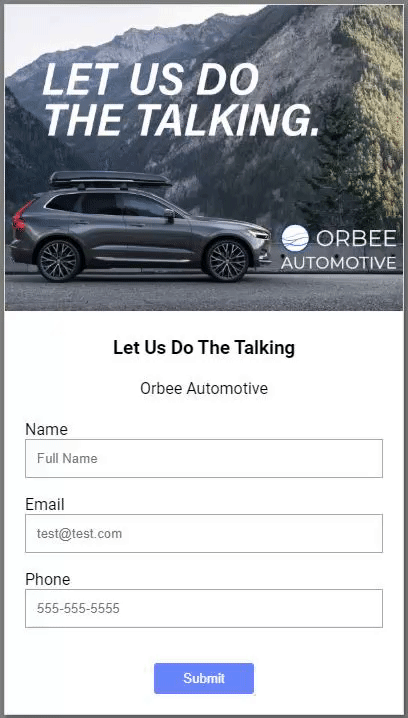 How is this beneficial for my car dealership?
Your visitors will get this lead pop-up form on your website and may fill out the form if they are interested in getting into contact with a salesperson
If your car dealership decides to place these lead pop-up forms on an advertisement's landing page, the customer who clicked the ad may have already been interested in the vehicle, and will then fill in the form and provide you with a lead
Advertising can be placed on these lead pop-up forms

If you have a special or incentive, and a customer is interested, they can fill out the form and you can provide them with additional information about it
You can rotate advertisements to show different ads if there is a returning customer

These leads will be sent to your Customer Relationship Management system where your car dealership can contact shoppers and get them to come into the store!
Every time a form from the pop-up is completed, we will send you the information as soon as we receive it


That way, you do not have to wait for an email with multiple leads and you can contact that single lead as soon as you receive it.

You will be able to get more conversions for your car dealership with this form
You get the attention of your customers right away when the pop-up is shown on their screen
You have the ability to personalize this pop-up for your customers and customize it for your car dealership
Last Updated: Jan 27, 2020 10:19 AM
If you have any other questions, please contact us, and we will be happy to answer any questions you may have!