Thie article goes over Price Alert Emails.
Price Alert Emails
Price Alert emails are automated emails that are sent to your website shoppers once they have completed a few actions. These emails alert your customers when a price on a vehicle they viewed has dropped.
How Price Alert Emails are sent
Before a Price Alert email is sent to your customers, they will need to meet a few actions:
The shopper will need to fill out a form that includes their email address.
The shopper will need to view at least one VDP (vehicle description page).
These emails are sent only to your customers and not your team to serve as a reminder of the vehicle they were interested in as they were browsing your website.
Note: Your customers will receive these emails every time there is a price change on a vehicle. The vehicles in your vehicle inventory feed will be checked every morning for price changes and an email will be sent shortly after.
How to set up Price Alert Emails
From your dealership, Orbee will need:
Dealership Logo: needs to be .png file format and transparent
Desired Header Color: the color should be a hex code; default color is gray

Example: #ffffff is white, #000000 is black

Inventory Feed with Images and Vehicle Price: your inventory feed needs to be set up with us in order to send these emails because we obtain the vehicle images and vehicle price changes from your inventory feed

Note: If your VDP does

not

contain a price or an image, the price alert email will

not

be sent to your customer.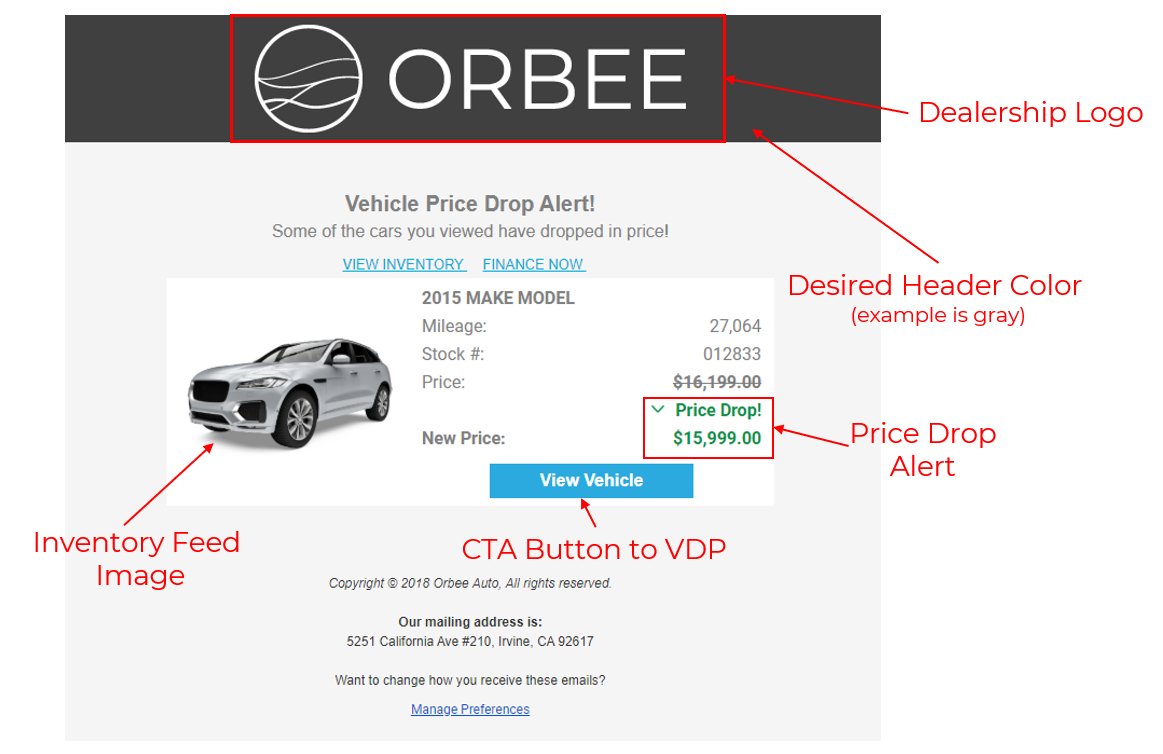 Last Updated: Mar 13, 2020 10:44 AM
If you have questions regarding price alert emails, please feel free to contact us. We can help you get set up.