Sales vs. Shopper Analysis
A Sales vs. Service Shopper Analysis takes a look at what your customers are shopping for as they browse your website.

Sales Shoppers, Service Shoppers, Both Shoppers, and Unidentified Shoppers are the metrics on this graph.
You can take a closer look at certain metrics by clicking the name of the metric on the graph to remove it from the graph.

Right below the bar graph, there will be a table that lists the metrics for each dealership. The metrics will include:

Total Shoppers
Sales Shoppers %
Service Shoppers %
Sale & Service Shoppers %
Unidentified Shoppers %

Clicking any of these metrics will take you to the Shoppers Overview section of the Platform.
If you would like to filter out these metrics, you can click on the funnel and select a specific filter. These filters include Paid Search, Organic Search, Social, Display, Email, and Other.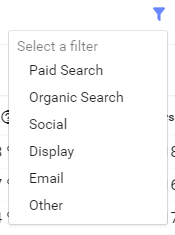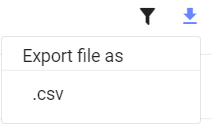 You can also export the file into a Microsoft Excel file (.csv) by clicking on the button with the down arrow.
Last Updated: June 5, 2020 10:59 AM
The next section of the Group Comparison tab is the Car Shopper Analysis section.