This article explains sitelink extensions for Google Ads.
In this article
We will be going over:
About sitelink extensions

Sitelink extensions add additional links to your Google ads. Sitelinks take people to specific pages on your website.
Some examples include a specific product or store hours
When someone clicks or taps on your links, they will go directly to what they want to know or buy
Benefits
Some benefits of sitelink extensions include:
| | |
| --- | --- |
| Benefit | Description |
| Update easily | Change link text and URLs whenever you want, keeping them up-to-date for sales and special offers. You do not need to make new advertisements or edit them to include sitelinks |
| See detailed data about your clicks | You can see how many clicks occurred on your ad when sitelinks appeared. Break down the statistics by the campaign, ad group, or ad. Segment your statistics to see the number of clicks that occurred on the individual sitelink versus another part of the ad. (for example, the headline, other sitelinks, or another extension) |
| Use conversion tracking for landing pages | Set up conversion tracking for the landing pages people visit when they click the sitelinks below the ad. You should optimize your landing pages for a "light" conversion events (such as a website visit) |
| Edit your sitelink extensions without losing data | Edit your sitelink extensions without setting their performance statistics |
| Customized sitelinks for mobile | Create mobile-optimized sitelinks to show mobile devices |
| Schedule with start and end dates | Specify the dates, days of the week or times of day your sitelinks are able to show |
How sitelink extensions work
You can add sitelink extensions to the account, campaign, or ad group level

You specify the link text (what shows to people) and the URLs (the pages they click to)
In some cases, Google may provide your sitelinks with descriptions that you have provided about those pages


You can add the descriptions yourself when creating sitelinks or Google can automatically use the information within your account about the individual sitelinks (from your ads)

By showing additional information, your ads may be more relevant to customers
If you create smaller level sitelinks, that sitelink will always be at a higher point than the higher level sitelinks.

For example, if you create sitelinks for an ad group, that sitelink will serve over campaign-level sitelinks
It is important to remember that a new sitelink is associated with the correct level for it to serve
You can also choose to show no sitelinks for an ad group

Extensions can be associated to any ad group or campaigns, or the entire account
How sitelink extensions appear
Sitelink extensions appear in a variety of ways, depending on the device, position, and other factors. Sitelink extensions are compatible with search campaigns and video campaigns on YouTube.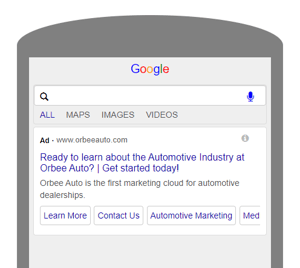 Search Campaigns
Sitelink extensions appear in ads at the top and bottom of Google search results
You need at least 2 sitelink extensions for the sitelinks to appear in the ad. The number of sitelinks that can appear is different depending on where people see the ad:


Desktop: Your ad can show up to six sitelinks. Sitelinks may appear side-by-side on the same line or fill up to two lines of your ad
Mobile: Your ad can show up to eight sitelinks. These sitelinks appear side-by-side on a single line in a carousel format. People can swipe left or right on the carousel to browse your various sitelinks. If your ad appears in the very top position, the sitelinks may show in a prominent row, with only one sitelink on each line.
Video Campaigns
Sitelink extensions appear below eligible ads that play before, during, or after another video on YouTube. Sitelinks only appear below eligible ads on mobile devices.
You need at least two sitelink extensions for sitelinks to appear on the ad.
Your ad can show up to four sitelinks. People can browse and select the links while watching the ad.
Cost
Search Campaigns
Sitelinks do not cost extra to add to your advertisement. You will be charged if people click on your link from the ad.

The cost of the click will be the same as the headline in the advertisement.
Sitelinks offer more opportunities for your advertisements to be clicked, but will not be charged for more than two clicks per impression
If someone quickly clicks on your links, you will not be charged because it will be treated as a duplicate or invalid link.
Video Campaigns
You will be charged on a cost-per-thousand impressions (CPM) basis from people viewing your ad. You will pay every time your ad is viewed 1,000 times. Adding sitelinks may decrease your cost-per-action (CPA).
Adding sitelink extensions
You can learn about how to add sitelink extensions, or you may contact Orbee Auto to request sitelink extensions for your advertisements on the Google Display Network.
Last Updated: Mar 17, 2020 2:07 PM