In this article, we will describe five pages that we find important on the Platform.
There are a lot of different sections and tabs on the Platform that will help you make decisions about your marketing efforts. We will be going over the five that we find significant and may help you. The five most important views are:
Dashboard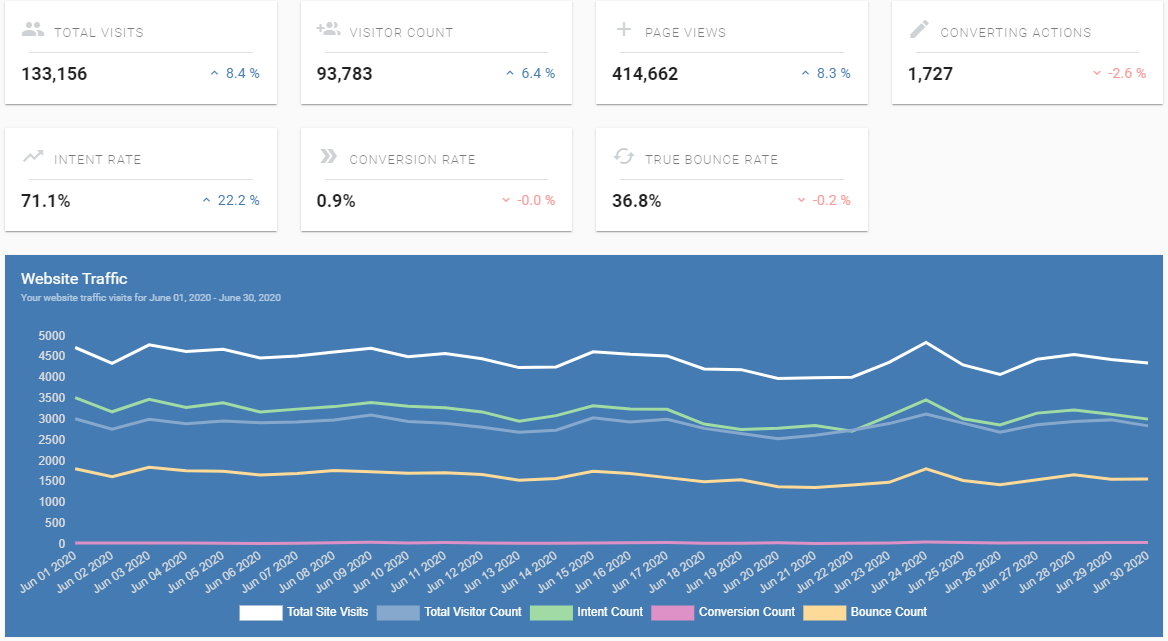 The Dashboard gives you a summary of the last month with important metrics and graphs.
The Dashboard includes several important metrics that include Total Visits, Visitor Count, Page Views, Converting Actions, Intent Rate, Conversion Rate, and True Bounce Rate.

These metrics will also be shown on a line graph right below the metrics.

Below is the Monthly Funnel, which will give you a quick recap of last month and the month before with three area graphs that display Total Visits, Intent Visits, and Total Conversions.
After the Monthly Funnel, you will see a list of top Google CPC states and cities.
Another feature of the Dashboard will be the Device Visits metrics. It will display a pie chart and a list of the metrics that describe the devices that your visitors are using. This will include Desktop, Mobile, and Tablet.
The next section of the Dashboard will display the Top Classified Source Mediums. This table will list your most popular source/mediums in terms of visits.
The last feature of the Dashboard is the same graph that is displayed on Conversions: Overview. Here you will see two tabs, Visits, and Actions. This Overview will give you metrics on your Conversions along with line graphs and a pie chart (on the Actions tab).
Source/Medium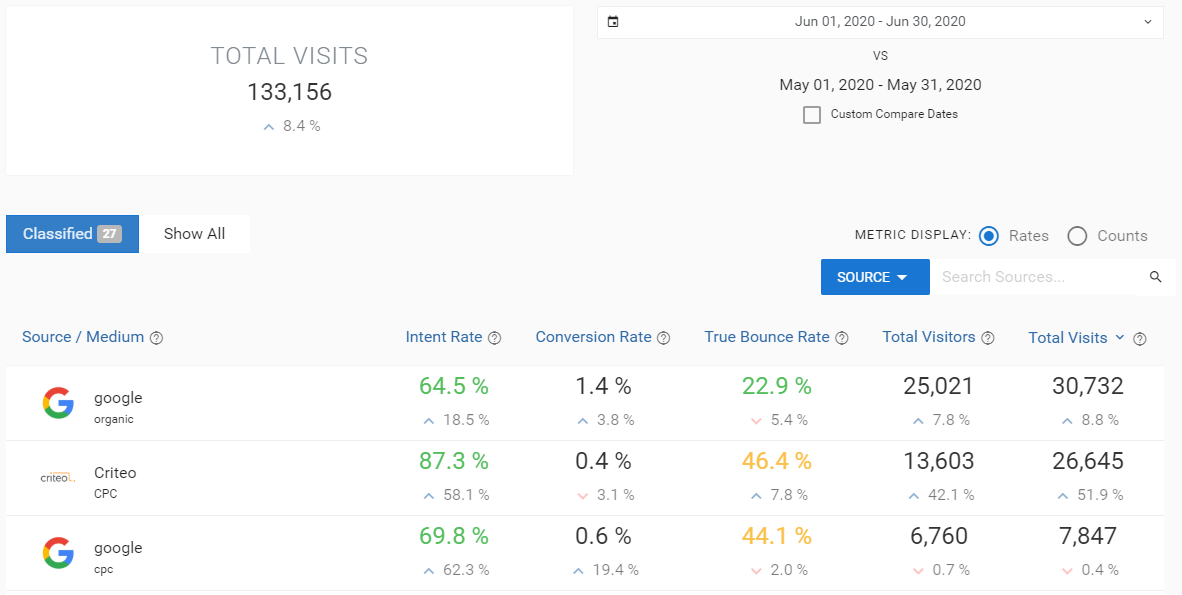 The Source Medium section of the Orbee Platform is an essential section for keeping track of how your current source/mediums are doing.
The data shown in this section is important because you should be able to see which source/mediums are working for you, and which may not be. With this information, you can decide how to better allocate your advertising funds.
Here, you will see the Source/Medium, Intent Rate, Conversion Rate, True Bounce Rate, Total Visitors, and Total Visits. With these numbers, you will be able to determine how each source/medium is doing.
Drilldown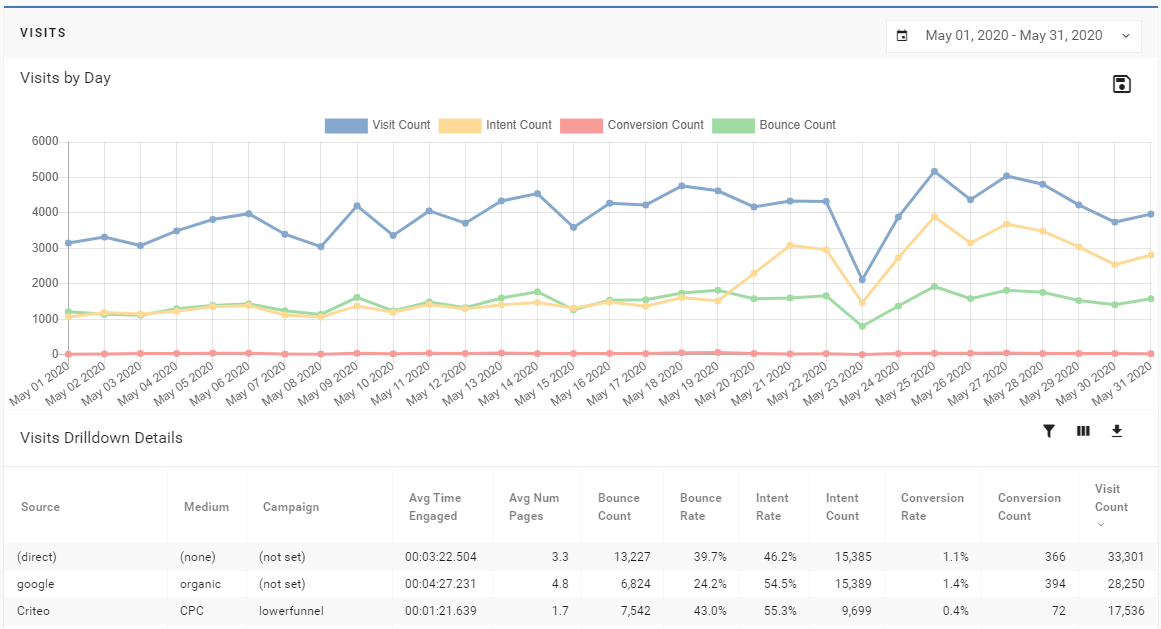 The Drilldown section of Analyze: Drilldown is a great section because of the data that it provides for your car dealership.

The Drilldown section is on this list because it provides raw data about your visitors and this information can be very informative. You can learn more about your visitors and use this to adjust your marketing efforts.

The Drilldown page is brought up once you click a dimension or metric on most tables. You can also access the Drilldown section if you click "View All" at the bottom of any table.
To learn more about how to better use the Drilldown, click here!
Conversions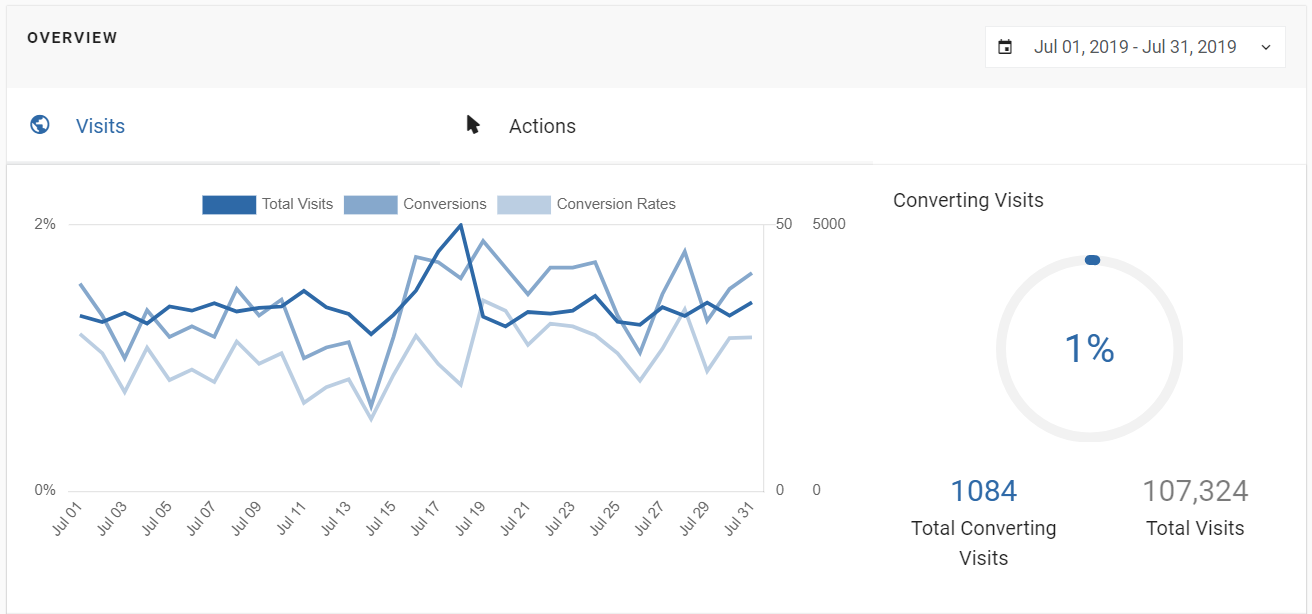 The entire Conversions tab is important. The Conversions tab consists of the Overview, Timeline, and Drilldown.
The Overview gives you a quick glimpse of how your selected month is doing in terms of Converting Visits and Converting Actions. You will also be able to see which source/mediums are doing better than others in the table below the graphs.
The Timeline will provide you with every conversion made and specific details about that conversion for the selected date range.
The Drilldown section will display a line graph of the Converting Actions along with a detailed table.

The table includes the Vendor (source), Program (medium), Campaign, Landing Page, Conversion Page, Click to Call Count, Click to SMS Count, Form Submission Count, Total Conversion Count, and Total Conversions.


You will be able to see in detail each Vendor/Program/Campaign and their conversion numbers.

You also have the option to change the dimension to see the campaign or landing page conversions in detail by clicking the dropdown menu:

Shoppers Overview

The Shoppers Overview section of the Platform will present you with several graphs and metrics about your Shoppers.
There are three parts to the Shoppers Overview: General Shopper Analysis, Car vs. Shopper Analysis, and Car Shopper Analysis.
For the General Shopper Analysis, we will show you a bar graph that includes Engaged Shoppers, Return Shoppers, Converted Shoppers, and Other Shoppers. The metrics will also include the total number of Shoppers as well.

At a quick glance, you can see who your shoppers are and see the percentages of who is engaged, returning, or converting. If your converting shoppers are low, you can use this information to create a strategy for more conversions.

The Car vs. Shopper Analysis will show a pie chart along with metrics of which shoppers are Sales Shoppers, Service Shoppers, or both Sales & Service Shoppers.

This number can be important because if you need to push service to your shoppers, you can see from these metrics if your service is not doing as well. From there, you could push marketing efforts towards the service department.

The last feature of the Shoppers: Overview section is the Car Shopper Analysis. Here, you can see the number of Total Car Shoppers along with the New Shoppers, Used Shoppers, and New & Used Shoppers rates.

Looking at both the pie chart and the metrics you should be able to see how many shoppers are browsing new, used, or both new and used vehicles. If you see that one of the values are a bit too low, this might be a good opportunity to put forth marketing efforts that will increase those rates.
On the other hand, if you have an influx of vehicles in the category that is higher, you can also promote those vehicles because your shoppers are already more interested in that specific type.
Last Updated: June 12, 2020 2:23 PM
At Orbee, these are the top five views on the Orbee Platform. If you have any other questions, feel free to check out the Knowledge Base, or contact an Orbee Representative.